Product Description
Products Detail
Engine Piston CY4100 Phosphating process piston
Variable frequency induction melting furnace from Pillar for Aluminum. Nature gas furnace from STRIKO Germany.Imported aluminum liquid refiners for increasing the quality of aluminum liquid. Double moulds casting machines designed and made by ourselves. 24 sets of them have been exported to MAHLE. Nature gas aging furnaces. Special CNC pin hole boring machines. CPK﹥1.67. CNC Machines from ATECH for piston skirt. Graphite printing machines and graphite cream made by Gemany. Pioneered micro-arc oxidation technology for piston. Spectrometer, IDECO density equivalent weight analysis meter and thermal analyzer. Digital diameter measuring instruments. Macroscopic shape measuring instruments. Ultrasonic test for cooling channel and Afin ring.10 production lines for middle size piston, 4 for passenger car piston and 1 for big piston. Gravity die casting and forging steel piston from 50 to 210mm.
Capacity:6 M PCs/ Year.
Casting capacity: 4,000T Per Year
Machining capacity: 10 sets of production lines and annual 4.5 M Pcs of Pistons
Products Tech: Piston with Alfin ring, steel sheet, cooling channel and profile skirt
Surface Treatment: Graphite spray, graphite printing, anodic oxygenation and tin plating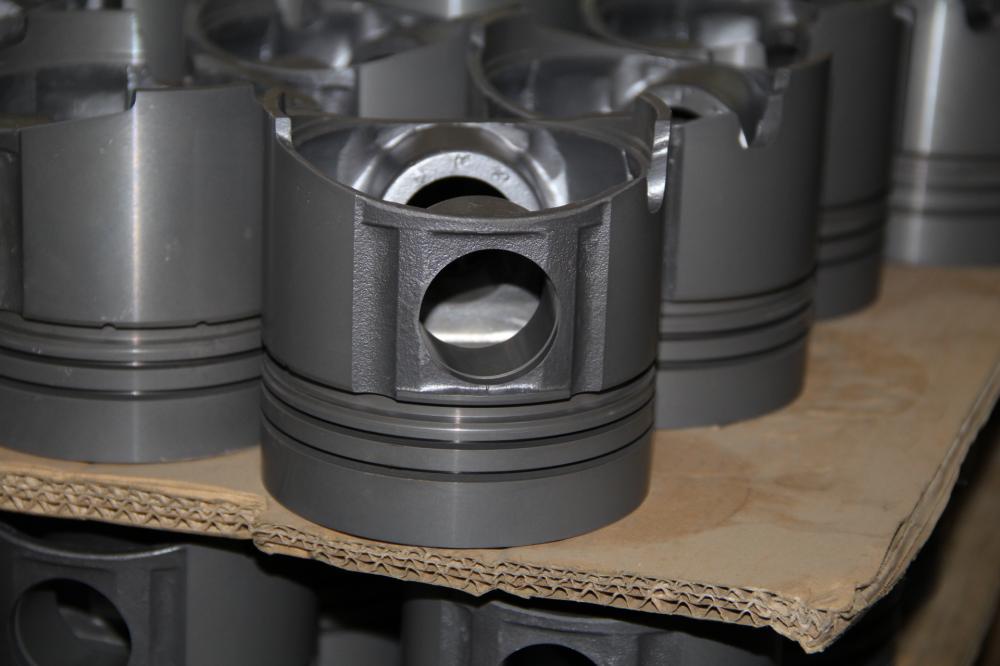 Company Profile
Specializing in internal combustion engine parts, Shijiazhuang Kincon Power Technology CO.,Ltd(formerly known as Shijiazhuang Internal Combustion Engine Parts General Factory) is a national large-scaled enterprise and a Class I Metrology Certificate enterprise. Our brands have been entitled as a famous brand in Hebei Province and China. We belong to the Top 500 Machinery Enterprises of China.
Our main products are Jingang SNP Brand, such as pistons, piston rings, cylinder liners, piston pins, valves, bearings and bushings, altogether 100 varieties, which are the important parts for internal combustion engines of automobiles, agricultural machinery, engineering machinery and shipbuilding. Our products meet the national quality standard, and have passed the inspection of National Quality Inspection Bureau. Our company mainly provides OEM parts for more than 50 companies, such as FAW, Dongfeng (Automobile Company), CNHTC (China National Heavy Duty Truck Group Co., Ltd.), Beijing Automobile Company, Yuejin (Automobile Company), Yitou (China Yitou Group Cooperation), Yuchai Machinery and Shanghai Diesel Engine Co. Ltd., as well as for aftermarket in many provinces, cities and autonomous regions in China. Some products are sold to both OEM and aftermarket in the US, Canada, Great Britain and other 20 countries and regions. For many years, our company has been the only one in China to produce and supply in packaging with engine friction parts - pistons, piston rings, cylinder liners and piston pins of the most variety and largest scale. We have passed the authentication of ISO/TS16949: 2002 in September, 2003, ISO90001:2000, and IQNET by many countries. Our company is the first company in our country with so many authentications in the field of automobile industry.
If your products are in large quantity demand we can arrange the production lines for you.We can do the surveying or mapping then custom and processing your products by according to the specific samples and drawings which you provided to us
Our is "Let more customers get benefits from Jingang Products". Our quality policy is "Improving, innovating and creating high quality Jingang products".