Product Description
Products Detail
Using 5 sets of Variable frequency induction melting furnaces and 3 sets of line frequency furnaces. Using Direct-reading spectrometer. Automatic Centrifugal casting machines made by KINCON ourselves. Nature gas aging treatment furnaces for all of our liners. Using CNC machines with unique self-centering fixtures, and Automatic honing machines from Germany.
Sulfidizing, parkerising, nitriding, ceramic infiltration and induction, plasma, laser hardening treatment.Ultrasonic cleaning and rust-proof equipments. We use 5T Coke-less cupola
bought from Germany. We also have 16 sets of cylinder liner machining production lines.
Casting: Semi-automatic 16 working station centrifugal casting; Machining: 18 Sets
Production Lines; Products Tech: Wet liner, dry liner; phosphate, sulfuration, oxidation,
chroming liner; Laser harden, plasma harden liner. Liner size: 50-250MM Bore ID. Capacity: 6 M Pcs/ Year.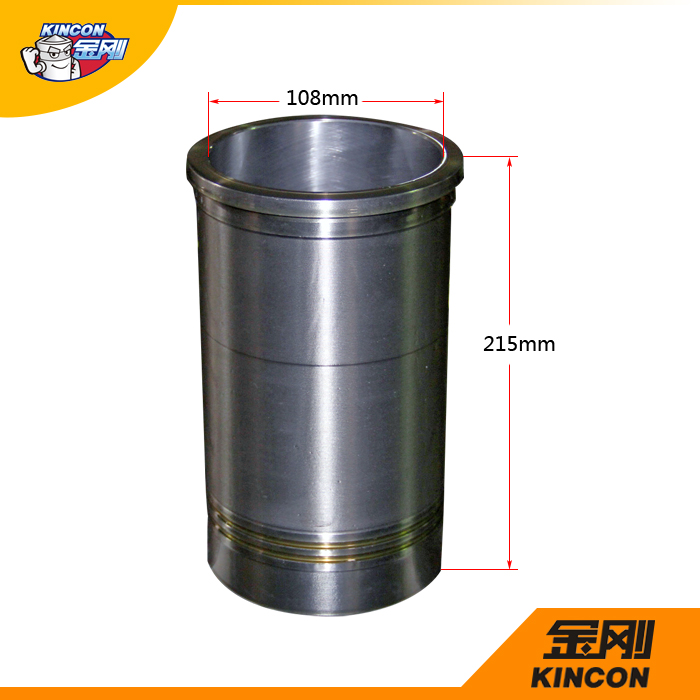 Company Profile
Specializing in internal combustion engine parts, Shijiazhuang Kincon Power Technology CO.,Ltd(formerly known as Shijiazhuang Internal Combustion Engine Parts General Factory) is a national large-scaled enterprise and a Class I Metrology Certificate enterprise. Our brands have been entitled as a famous brand in Hebei Province and China. We belong to the Top 500 Machinery Enterprises of China.
Our main products are Jingang SNP Brand, such as pistons, piston rings, cylinder liners, piston pins, valves, bearings and bushings, altogether 100 varieties, which are the important parts for internal combustion engines of automobiles, agricultural machinery, engineering machinery and shipbuilding. Our products meet the national quality standard, and have passed the inspection of National Quality Inspection Bureau. Our company mainly provides OEM parts for more than 50 companies, such as FAW, Dongfeng (Automobile Company), CNHTC (China National Heavy Duty Truck Group Co., Ltd.), Beijing Automobile Company, Yuejin (Automobile Company), Yitou (China Yitou Group Cooperation), Yuchai Machinery and Shanghai Diesel Engine Co. Ltd., as well as for aftermarket in many provinces, cities and autonomous regions in China. Some products are sold to both OEM and aftermarket in the US, Canada, Great Britain and other 20 countries and regions. For many years, our company has been the only one in China to produce and supply in packaging with engine friction parts - pistons, piston rings, cylinder liners and piston pins of the most variety and largest scale. We have passed the authentication of ISO/TS16949: 2002 in September, 2003, ISO90001:2000, and IQNET by many countries. Our company is the first company in our country with so many authentications in the field of automobile industry.
If your products are in large quantity demand we can arrange the production lines for you.We can do the surveying or mapping then custom and processing your products by according to the specific samples and drawings which you provided to us.